Student-Led Conferences: A Growing Trend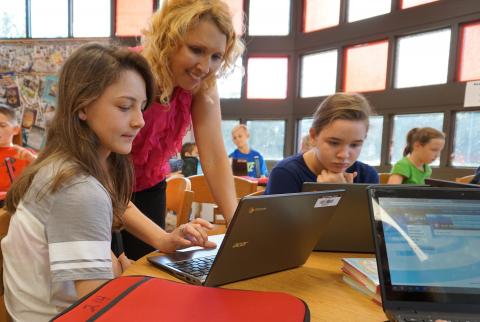 It is time to try a new word in parent-teacher communication: a student-led conference. Teachers in US highlight the benefits of student-led conferences as students learn more with help of them through conventional assessments. All of them confirm that the impressions from parents and board members were very positive and it was interesting to watch students explaining low grades to their parents.
Letting Students Lead Parent Conferences, an article by Laura Hayden, states that the success of these conferences depends on the level of preparation of students. In the Hayden's school students created teams and conducted conferences in their own ways. Students create portfolios of their work and write about their grades and habits and rehearse conference to know what points need to be enhanced. That way, students learn to take a responsibility for the grades and deepen knowledge they learned from tasks.
Barbara Rommel, an author of "New Method Puts Student in Charge," encourages students to take their efforts under control and accept responsibility for their learning.
Pros and Cons of Student-Led Conferences
Despite the fact that educators name many benefits of such kind of conferences, there are also negative points.
• Students are very disappointed when parents don't come to the student-led rather than to teacher-led conference.
• Many parents are not satisfied with the quality of information provided by such conference and they want to communicate with a teacher to hear his or her meaning. Because of this almost all schools that practice student-led conferences propose a possibility to confer with teachers to get their meanings also.
• Many parents don't take the conferences seriously as they believe that it is some kind of training to make children more
confident and be a part of the whole process. They believe that they don't receive enough information and students benefit from the conferences more than parents. They would like to attend student's conference no more than once a year.
However, educators on the whole agree that there are more advantages rather than disadvantages. In general, student-led conferences gain popularity among teachers, parents and students and it is a proven fact.